Hi,
I'm unable to merge my dll EZreceiptDll2.dll with Newtonsoft.Json.dll. Is there any detail I missed?
Here is my options:
Here is my ILMerge configuration: (BTW, I'm not very sure what to write down in this textarea)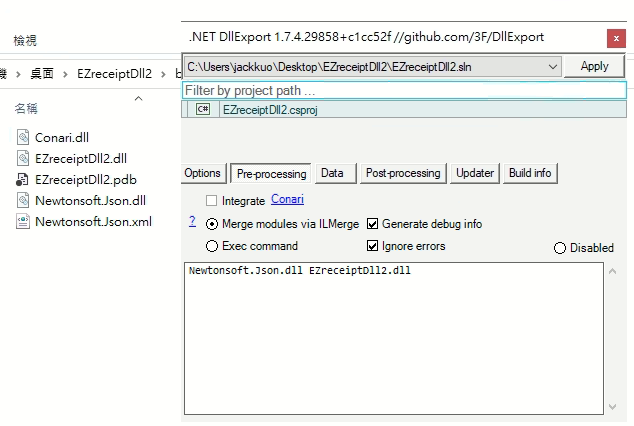 ---
Information from Data tab:
Installed: True; 1.7.4+c1cc52f; invoked: 1.7.4
Project type: Cs
Storage: ProjectFiles
Compiler.Platform: x86
Compiler.ordinalsBase: 1
Compiler.rSysObj: False
Compiler.ourILAsm: False
Compiler.customILAsm: 
Compiler.genExpLib: False
Compiler.peCheck: PeIl
Compiler.patches: None
PreProc.Type: ILMerge, DebugInfo, IgnoreErr
PreProc.Cmd: Newtonsoft.Json.dll EZreceiptDll2.dll
PostProc.Type: Predefined, DependentX86X64, SeqDependentForSys
PostProc.ProcEnv: $(SolutionPath);$(MSBuildThisFileFullPath);TargetDir
PostProc.Cmd: ...
SignAssembly: 
Identifier: 5F0765BA-6964-4A7D-AC90-D7DD394FC718
Instance: C:\Program Files (x86)\Microsoft Visual Studio\2019\Community\MSBuild\Current\Bin\amd64\MSBuild.exe
Project path: C:\Users\jackkuo\Desktop\EZreceiptDll2\EZreceiptDll2.csproj
Action: Configure
PlatformTarget: x86
TargetFramework: 
TargetFrameworks: 
TargetFrameworkVersion: v4.7.2
RootNamespace: EZreceiptDll2
AssemblyName: EZreceiptDll2
MgrArgs: -action Configure
MetaLib: tools\raw\lib\net20\DllExport.dll
MetaCor: tools\raw\lib\netstd\DllExport.dll
Proxy: 
StoragePath: .net.dllexport.targets
ddNS: System.Runtime.InteropServices
ddNS max buffer: 500
UseCecil: True
intermediateFiles: False
timeout: 30000
Options: None
RootPath: C:\Users\jackkuo\Desktop\EZreceiptDll2\
PkgPath: C:\Users\jackkuo\Desktop\EZreceiptDll2\packages\\DllExport.1.7.4\
SlnFile: 
SlnDir: C:\Users\jackkuo\Desktop\EZreceiptDll2\
DxpTarget: tools\net.r_eg.DllExport.targets
MsgGuiLevel: -1
LockIfError: 

Issue Analytics
State:

Created 3 years ago

Comments:

9 (5 by maintainers)
Top GitHub Comments
Good! Just a few clarifications:
.\DllExport.bat -action Configure
the Configure is the default action for 1.6.3+ thus it can be simply omitted. Other commands here.
Also, some specific namespace is not required. I don't know Chinese but it was translated as
"2. Select the corresponding Namespace and use it here … (need to be introduced separately)"
You can also point to the following important places:
And welcome if you want push some example for python, here https://github.com/3F/Examples/tree/master/DllExport/
Thanks!
@3F Here is a new step-by-step tutorial blog post in Traditional Chinese. (maybe you could use Google Translate XD) It's welcome to use my screenshot to write an English version ~
Read more comments on GitHub >
Top Results From Across the Web
Top Related Medium Post
Top Related StackOverflow Question
Troubleshoot Live Code
Lightrun enables developers to add logs, metrics and snapshots to live code - no restarts or redeploys required.
Start Free
Top Related Reddit Thread
Top Related Hackernoon Post
Top Related Tweet
Top Related Dev.to Post
Top Related Hashnode Post