Gauge is not showing completely in half circle, the background arc goes missing. The gray color towards the end goes missing.
See original GitHub issue
C3 version: 0.6.1
D3 version: 5.4.0
Browser: Chrome 66.0.3359.117 (Official Build) (64-bit)
OS: Windows
I noticed after updating to latest version of C3 and D3. The gray color from background area on Gauge is not appearing.
Please check this jsfiddle http://jsfiddle.net/rahul_winner/r9Lfkamz/
Before Update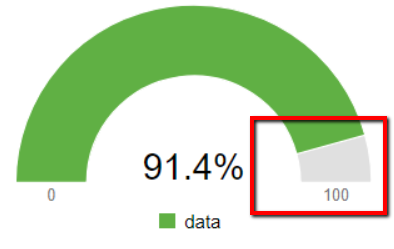 After Update
Could you please take a look at it and address it. It will be a great help.
Issue Analytics
State:

Created 5 years ago

Comments:

7 (5 by maintainers)
Top GitHub Comments
Top Results From Across the Web
Top Related Medium Post
Top Related StackOverflow Question
Troubleshoot Live Code
Lightrun enables developers to add logs, metrics and snapshots to live code - no restarts or redeploys required.
Start Free
Top Related Reddit Thread
Top Related Hackernoon Post
Top Related Tweet
Top Related Dev.to Post
Top Related Hashnode Post