Issue Description
Hi there. Cant make any movement on my wallet since March 25th Images attached. All channels are closed & cant open anyone from the 4 options given (Paste or scan nodes URI do not work from LN explorer, Random node say me BOLT 10 "Not available yet" & last one, ACINQ node gives me a message "Failed to open channel: peer sent error" Some ACINQ reply to my first tweet toldme to send my NodeID to "Helloacinq.co" Mail already sent no answer yet. Thanks in advance 4 any help on this.
![OpeningNode](https://user-imag
es.githubusercontent.com/102921621/161443255-1d67f74b-4445-4132-bd1a-28a235641ea3.jpeg)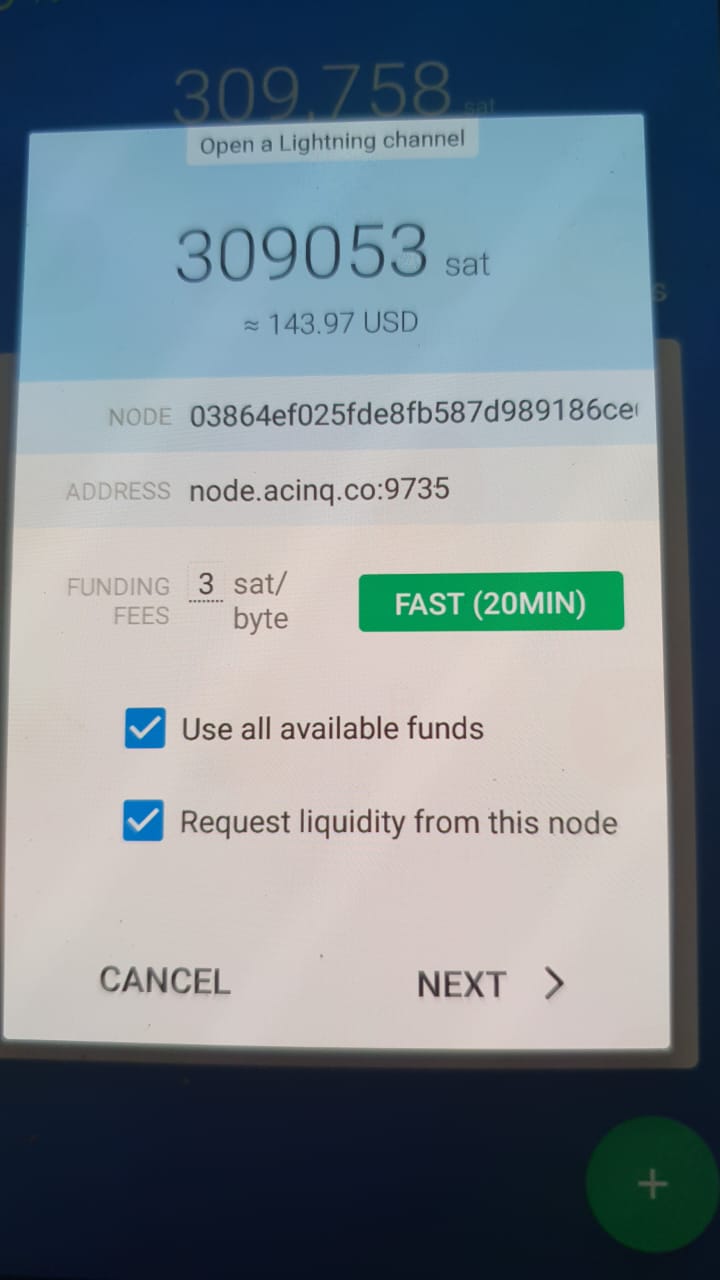 Issue Analytics
State:

Created a year ago

Comments:

7 (5 by maintainers)
Top GitHub Comments
You can open a channel on Eclair Mobile even after the sunset notice. It still works.
In your case, the channel is failing because its capacity is too low for the peer. You are trying to open a channel with a 309k sat capacity but that peer requires at least 400k sat. The error message is indeed not very readable.
To connect to another node, you can scan any node address QR code from that website: https://1ml.com/
To migrate to Phoenix, as mentioned by @t-bast you just need to make a transaction from Eclair Mobile to Phoenix, using the "Show Bitcoin address" button in Phoenix's Receive screen.
But on Eclaire? How can send funds from onchain part of the wallet?
You do it just as you would do with any LN payment:
In Phoenix, go to Receive > "Show a Bitcoin address", and copy the address that has been generated
In Eclair Mobile, click on the blue arrow button, in the bottom-right corner of the app, then "Paste a payment request"
Enter the amount you want and click Pay. Note that the "Empty wallet" checkbox makes Eclair Mobile compute the exact amount to send so that the balance of Eclair Mobile ends up at 0 (no dust left on the wallet).
If you still have open LN channels on Eclair Mobile, you will have to close them first, otherwise those funds will remain.
Read more comments on GitHub >
Top Results From Across the Web
Top Related Medium Post
Top Related StackOverflow Question
Troubleshoot Live Code
Lightrun enables developers to add logs, metrics and snapshots to live code - no restarts or redeploys required.
Start Free
Top Related Reddit Thread
Top Related Hackernoon Post
Top Related Tweet
Top Related Dev.to Post
Top Related Hashnode Post